Star Wars 50ft Obstacle Course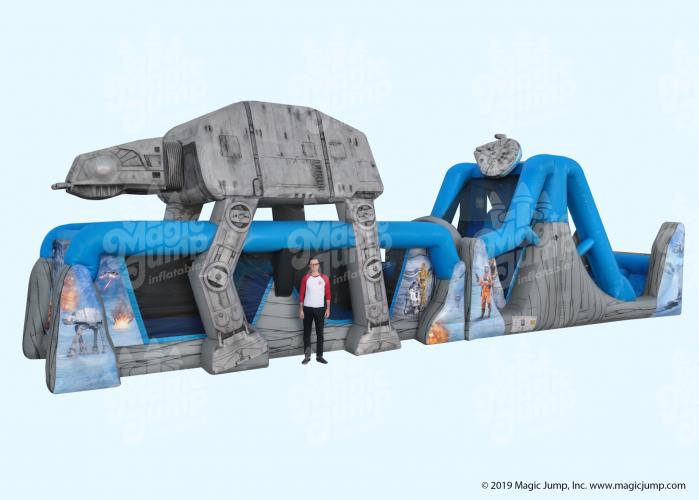 Inspired by a galaxy far, far away is our new
STAR WARS 50' Obstacle Course
This 50-foot long Star Wars-themed Obstacle Course is two (2) pieces.
Part #1 with entrance features Imperial AT-AT (All Terrain Armored Transport) bounce & obstacle area with small climber/slide and Darth Vader and Stormtrooper character obstacle pop-ups. 
Part #2 features tall climber/slide unit with Millennium Falcon embellishment at top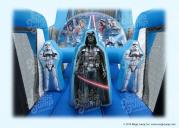 .
Participants pretend to re-live the iconic Battle of Hoth in Star Wars: The Empire Strikes Back.  Led by Darth Vader, the Imperial fleet have launched a large-scale attack to destroy the Rebel Alliance's Echo Base hidden on the remote ice planet of Hoth.  As imaginary members of the Rebel Alliance, participants will enter the obstacle course challenge and race past the Imperial AT-AT (All Terrain Armored Transport), all while avoiding inflatable obstacle pop-ups of the villainous Darth Vader and his cold assault stormtroopers, as they've entered the base.  Then, participants will evade the Imperial fleet and evacuate the base by powering through the tall climb and escaping down the slide while pretending Han Solo, Princess Leia, C-3PO and Chewbacca escape on the Millennium Falcon; and Luke and R2-D2 escape in his X-wing fighter.
Make the *jump* to lightspeed by featuring this unit at your next event. 
Dimensions:  50' x 11' x 16ft
Power Requirements: 2 AC CIrcuits
We'll bring the amusement park to you.

We know how important your next event is to you. We have been providing entertainment for all types of celebrations including college events, birthday parties, bar/bat mitzvahs, graduation parties, Post prom parties, church events, Corporate parties and picnics, private parties and much more since 1979. We strive to provide the best entertainment for every event.