Immunity Challenge
Mobile Escape Room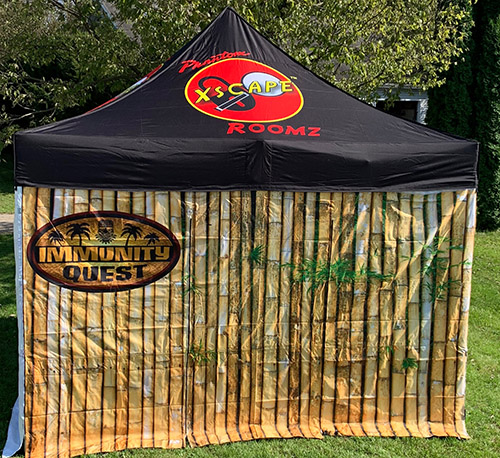 You and your tribe have been placed on a deserted island and must work as a team to
solve puzzles and riddles in search of the immunity idols.
As your team finds the idols, you're one step closer to
the ultimate challenge… gaining IMMUNITY.
Gain Immunity before time is up.
If you have seen a similarly branded unit, have no fear. Our Immunity Challenge is unique and
has puzzles and challenges not found in any similar unit.
Dimensions: 13ft x 13ft x 14ft High
AC requirements: 1 AC Circuit
There is no inflatable option for this unit.
Our Escape rooms are generally rented in pairs.
If rooms cannot be set-up side by side, we need
to know in advance and there will be an extra staffing fee.
We'll bring the amusement park to you.

We know how important your next event is to you. We have been providing entertainment for all types of celebrations including college events, birthday parties, bar/bat mitzvahs, graduation parties, Post prom parties, church events, Corporate parties and picnics, private parties and much more since 1979. We strive to provide the best entertainment for every event.