Mini Golf
&
Black Light Mini Golf
The fun and excitement of Mini-golf can now come to your event.
Our package is complete with score cards, 9 hole mini-golf course, 24 mini-golf putters, colored golf balls.
No AC power is required for the standard mini golf system.
Black Light Mini Golf
Phantom Entertainmment's Black Light Mini Golf comes complete with 9 Black light holes, Score Cards, putters, and neon golf balls.

Below are pictured some of the black light holes: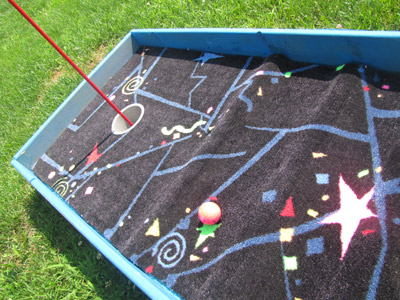 For Black light mini golf to work, the lights must be offand the room must be dark. Phantom Entertainment provides all the necessary black light fixtures for this package.
We suggest a 40ft x 40ft area and at least 3 AC outlets
Either the Black Light mini golf and regular mini golf can fit in strange places including hallways, corridors,and areas smaller than 40ft x40ft.
We'll bring the amusement park to you.

We know how important your next event is to you. We have been providing entertainment for all types of celebrations including college events, birthday parties, bar/bat mitzvahs, graduation parties, Post prom parties, church events, Corporate parties and picnics, private parties and much more since 1979. We strive to provide the best entertainment for every event.