Space, the Final Frontier
Mobile Escape Room
Klingons have attacked and your starship is disabled.
Do not let the Klingons take the ship!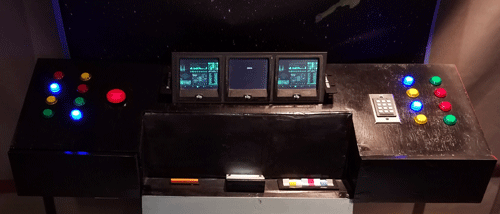 Space the Final Frontier Mobile Escape Room includes hi-tech electronic challenges as well as the usual
mechanical and manual puzzles. This scenario was created entirely by
the design team at Phantom Entertainment. It is original and includes electronics that
are not found in any other escape room!
Tent version dimensions: 10ft x 15ft x 10ftH
Tent Version power requirement: 1 AC Power
Our Escape rooms are generally rented in pairs.
If rooms cannot be set-up side by side, we need
to know in advance and there will be an extra staffing fee.
We'll bring the amusement park to you.

We know how important your next event is to you. We have been providing entertainment for all types of celebrations including college events, birthday parties, bar/bat mitzvahs, graduation parties, Post prom parties, church events, Corporate parties and picnics, private parties and much more since 1979. We strive to provide the best entertainment for every event.