Rent a Mobile Zip Line Now!
Zip lines available in Carlisle, York, Harrisburg, and throughout PA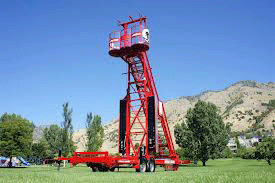 Zip Through the air!
Are you ready to take the leap of faith?
The Phantom Mobile Zip line has a launch platform of 28ft High.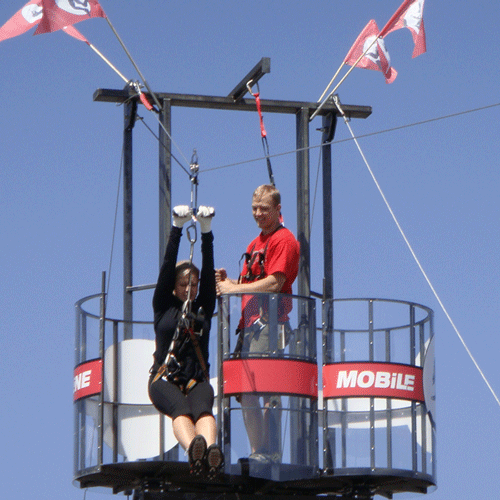 Dimensions 25ft wide by 200ft long by 28ft High.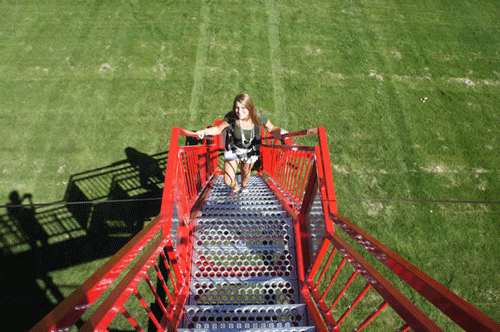 One AC circuit is required. We must also be able to tow the portable zip line into place. If you want this unit set-up on your lawn, quad, or grassy area then we must be able to drive on that area to put the unit in place.
The portable mobile zip line is fun and thrilling but does have a minimum weight requirement
of 60 lbs and a maximum weight limit of 250 lbs.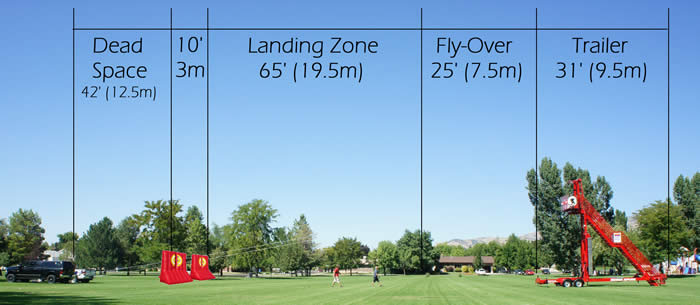 Rent a mobile zip line for any party.
When we deliver the mobile zip line, it will be pulled by a
Ford F350 Pick up truck and the total length will be 58ft.
That is the same length of many tractor trailers.
If a tractor trailer could not get to your location, then
we will not be able to get this to your location either.
There also cannot be any overhead power lines close to
where you want the portable zip line set up. It is generally
in violation of every state law to set up an amusement ride
within 20ft of an electric utility line.
The area that you wish to use the mobile zip line must be a relatively
flat surface for the entire set up area.

We'll bring the amusement park to you.

We know how important your next event is to you. We have been providing entertainment for all types of celebrations including college events, birthday parties, bar/bat mitzvahs, graduation parties, Post prom parties, church events, Corporate parties and picnics, private parties and much more since 1979. We strive to provide the best entertainment for every event.