Phantom Entertainment Disc Jockeys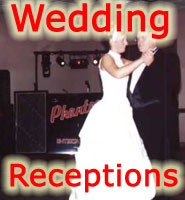 Phantom Entertainment has built a strong reputation for excellence in entertainment. We offer professionalism, experience, and formal appearance to make your wedding day elegant and exciting. We are equipped with the highest quality sound and light systems along with a variety of music from the big band era up to the current Top-40 and country hits.
Our fantastic sound systems and energized Hi-Tech lighting systems will turn your dance into a party you'll always remember.
Our sound systems are designed to handle any room from a banquet hall to a the school gymnasium .
Proms
Homecomings
School Dances
Sweet 16 Parties
Holiday Parties
Anniversaries
Company Parties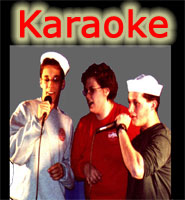 Phantom Entertainment is the area's leader in Karaoke Sing-along with one of the largest selection of songs available anywhere!  We update with new songs EVERY month. The proof is in our books!
Phantom Entertainment has four complete karaoke systems available for your special event. We also have 1 small mini system available.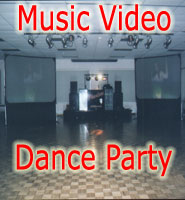 Available in either a single huge screen or double huge screens, the latest and greatest music videos will explode on the screen while you dance.  As always, the Music Video Show comes complete with our standard DJ system and standard intelligent lighting.
You and your guests actually STAR in your very own Music Video!
After choosing a karaoke tune from our huge collection of karaoke hits,  you sing your song while standing in front of our large green screen.
We will then supermpose you into a fast action video, zipping down country roads, riding a roller coaster, and many other creative video backgrounds.
Take your event to the next level with a Black Light Glow Party! We provide a DJ with blacklight cannons, blacklight panels, glow stick bracelets, glow stick necklaces, and blacklight body/face paint. Our blacklight party includes a blacklight volleyball and blacklight volleyball net (customer must provide poles for the net).
The DJ can really get the crown going with the addition of either 1 or 2 Music Video screens (all blacklight accessories listed above are included with music videos).
Your body superimposed on a dancer's body all of which
is recorded on a DVD which you get to keep.
We'll bring the amusement park to you.
We know how important your next event is to you. We have been providing entertainment for all types of celebrations including college events, birthday parties, bar/bat mitzvahs, graduation parties, Post prom parties, church events, Corporate parties and picnics, private parties and much more since 1979. We strive to provide the best entertainment for every event.