>
Sky Fall
Ever wonder what it is like for a stunt man to fall on one of those inflated beds after falling from a building or a fireman jumping from a building? This is Sky Fall. You can now safely get the exciting feel of landing in one of these life saving beds.
There are two different heights that you can jump. We suggest that everyone try the lower height first so they get the feel of the landing.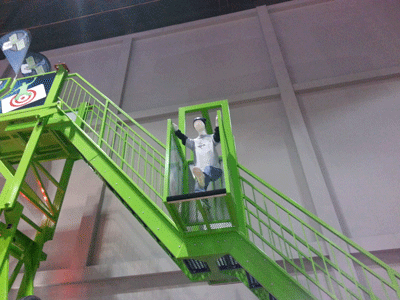 Requires at least a 55ft x 35ft area and 2 AC Power Circuits
Zero Shock is the amazing technology that brings this experience to life. It is the most advanced impact absorbing technology in the world. Zero Shock air bag systems are used around the globe for the amusement, gymnastics, stunt, extreme sports, civil rescue, and commercial industries.
This unit will captivate any crowd. The free fall experience is suitable for a wide range of participants from 5 to 75 years of age. Everyone can do it and everyone will have a blast doing it!

We'll bring the amusement park to you.

We know how important your next event is to you. We have been providing entertainment for all types of celebrations including college events, birthday parties, bar/bat mitzvahs, graduation parties, Post prom parties, church events, Corporate parties and picnics, private parties and much more since 1979. We strive to provide the best entertainment for every event.