Lucky Bamboo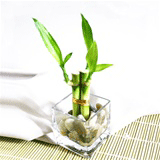 Why Is It Called "Lucky" Bamboo?


Along with its ease of growth, Lucky Bamboo has long been associated with the Eastern practice of Feng Shui - or the bringing of natural elements of water, fire, earth, wood and metal into balance within the environment. Lucky Bamboo is believed to be an ideal example of the thriving wood and water element, with the addition of a red ribbon sometimes tied around the stalks - which is believed to "fire" the positive flow of energy or chi in the room.
This is a great giveaway for any event. We provide the bamboo plants, vase, potting element, and ribbon.
The program usually includes 100 units, but additional quantities can be quoted.

We'll bring the amusement park to you.

We know how important your next event is to you. We have been providing entertainment for all types of celebrations including college events, birthday parties, bar/bat mitzvahs, graduation parties, Post prom parties, church events, Corporate parties and picnics, private parties and much more since 1979. We strive to provide the best entertainment for every event.