Armchair Quarterback and Armchair Basketball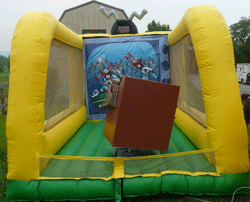 Most of us will watch our favorite TV sports from the comfort of our arm chairs.
Althought passionate about our favorite teams, our involvment goes only as far as shouting at the TV.
With Armchair Quarterback and Armchair Basketball...that all changes!
Take a seat in our interactive armchair and get into the heart of the action.
For the Armchair Quarterback (shown), the player tries to complete as many
passes as possible to designated players as the motion chair moves in many directions. The Large TV screen is an image a football game with several player's hands in
catching positions. There are impact target sensors on the screen and your will see
your score displayed on a large LED scoreboard.
Every completed pass increases your point score, but don't throw an interception
to the other team or points will be deducted.
The basketball system has one regulation Basketball backboard and net.
12ft x 15ft x 9ftH. Requires 2 AC power circuits.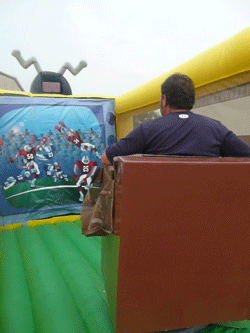 We'll bring the amusement park to you.
We know how important your next event is to you. We have been providing entertainment for all types of celebrations including college events, birthday parties, bar/bat mitzvahs, graduation parties, Post prom parties, church events, Corporate parties and picnics, private parties and much more since 1979. We strive to provide the best entertainment for every event.