Wrecking Ball
The Wrecking Ball is a brand new concept for all ages! It's big, it's bold, and it's extreme! This high energy game can be played by 2, 3, or 4 people at one time. The players climb on top of the inflated pads, grab the Wrecking Ball, and hurl it at the other players. Either dodge it, grab it, or hurl it back, but the last player still standing on their pad wins! Our Unit is the brand new enclosed version so participants cannot fall out.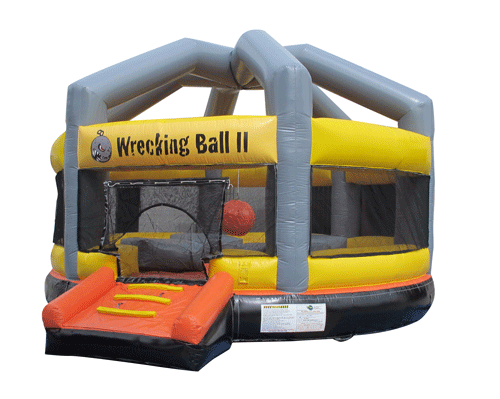 Dimensions: 29' diameter x 13' high, and requires 1 AC circuits
We'll bring the amusement park to you.

We know how important your next event is to you. We have been providing entertainment for all types of celebrations including college events, birthday parties, bar/bat mitzvahs, graduation parties, Post prom parties, church events, Corporate parties and picnics, private parties and much more since 1979. We strive to provide the best entertainment for every event.