Game Show Mania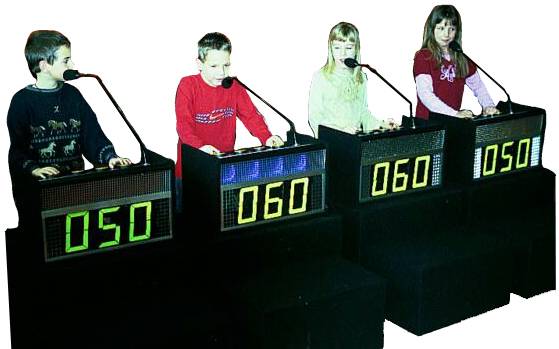 Game Show Mania runs for a 4 hours time period. We usually do not run it for 4 hours straight because our game show host will become exhausted. Each round is about 15 minutes.
The amount of players per round depends on how many people are willing to play. There are 4 podiums for players. We can have just 4 players at one time or teams of 2, 3, 4 and so on. So you could have teams of 4 (16 players total) playing during that 15 minutes.
After each round, our host will play some background music and get ready for the next group of players (about 10 minutes). We have all kinds of questions that we bring and the podiums have a score on the front of them.
2 AC outlets are required
A space of 20ft wide x 15ft deep is recommended
We will need one table for the set-up. Price is $2000 for upto 4 hours. Additional travel fees may apply depending on your location.
We'll bring the amusement park to you.

We know how important your next event is to you. We have been providing entertainment for all types of celebrations including college events, birthday parties, bar/bat mitzvahs, graduation parties, Post prom parties, church events, Corporate parties and picnics, private parties and much more since 1979. We strive to provide the best entertainment for every event.