Jurassic Adventure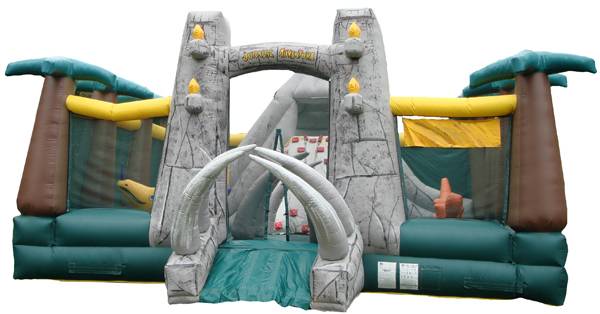 The original Jurassic Adventure bounce house brings fun and healthy activity from the Jurassic age to your next picnic or party. Kids can choose from several different dinosaur-themed activities, while entering and exiting through the jaws of a mighty monster. Participants can crawl through more teeth to the volcano rock climb, and choose a right or left slide to the accompanying jump areas. Fun themed Rockin Bronty and Steg Rocker obstacles then round out this timeless bounce house. Flanked by palm trees, with its large jaws and fiery archway, the Jurassic Adventure is sure to attract explorers all day long.
Dimensions: 30' x 30' x 16'H and requires 2 power circuits
This unit is priced at $1600/up to 4 hours. No discounts are available for this unit.
We'll bring the amusement park to you.

We know how important your next event is to you. We have been providing entertainment for all types of celebrations including college events, birthday parties, bar/bat mitzvahs, graduation parties, Post prom parties, church events, Corporate parties and picnics, private parties and much more since 1979. We strive to provide the best entertainment for every event.