What's New at Phantom Entertainment?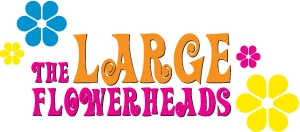 Groovy 60's Music
The Large Flowerheads enthusiastically bring to life the musical sights
and sounds of the 1960s.

Their repertoire includes numbers from The Beatles, The  Rolling Stones, The Box Tops, Buckinghams, Question Mark and The Mysterians, Neil Diamond, The Byrds, Strawberry Alarm Clock, The Rolling Stones, Manfred Mann's Earth Band, Tommy James & The Shondells, Eric Burdon & The Animals, The Doors, Cream, Procol Harem, Bob Dylan, Jefferson Airplane, The Human Beinz, and The Hollies & more."

Instrumentation
Each member sings lead vocals to offer a diverse song list.  

Maureen "Moe" Jerant - drums, vocals, rhythm guitar

Greg Geist -  vocals, rhythm guitar, bass, drums 

Billy Trexler - lead guitar, vocals, electric sitar 

Dave "Dano" D'Amelio - vintage Farfisa organ and Teisco del Ray bass, vocals


Power is required and staging is preferred.