Plant Palz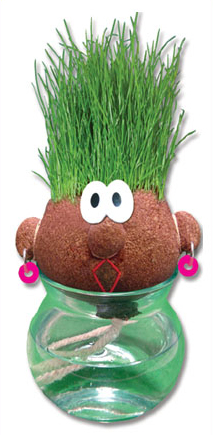 How to Grow Your Plant Pal
Step 1 - Submerge your Plant Pal completely under water until thoroughly wet and the air bubbles stop. Fill the vase with water. Place your Plant Pal onto the vase, making sure the wick is in the vase. This is how your Plant Pal drinks!
Step 2 - Turn the plastic container that comes with your Plant Pal upside down and place it over the vase and head, creating a "mini greenhouse" effect. Once the grass seed begins to germinate (about 5-7 days) you will see white "fuzz" (this is NOT mold.) Keep your Plant Pal covered until several seeds start to grow. Remove the plastic container. Your Plant Pal will continue to drink through the wick. Always make sure that your Plant Pal has plenty of water to drink. Every now & then you can change the water in the vase and as a treat you can give the entire Plant Pal a bath!
Step 3 - Soon the Plant Pal "hair" will grow longer and thicker. You can then cut and style the "hair" or just watch it grow. Use tweezers to remove any unwanted grass or root growth.